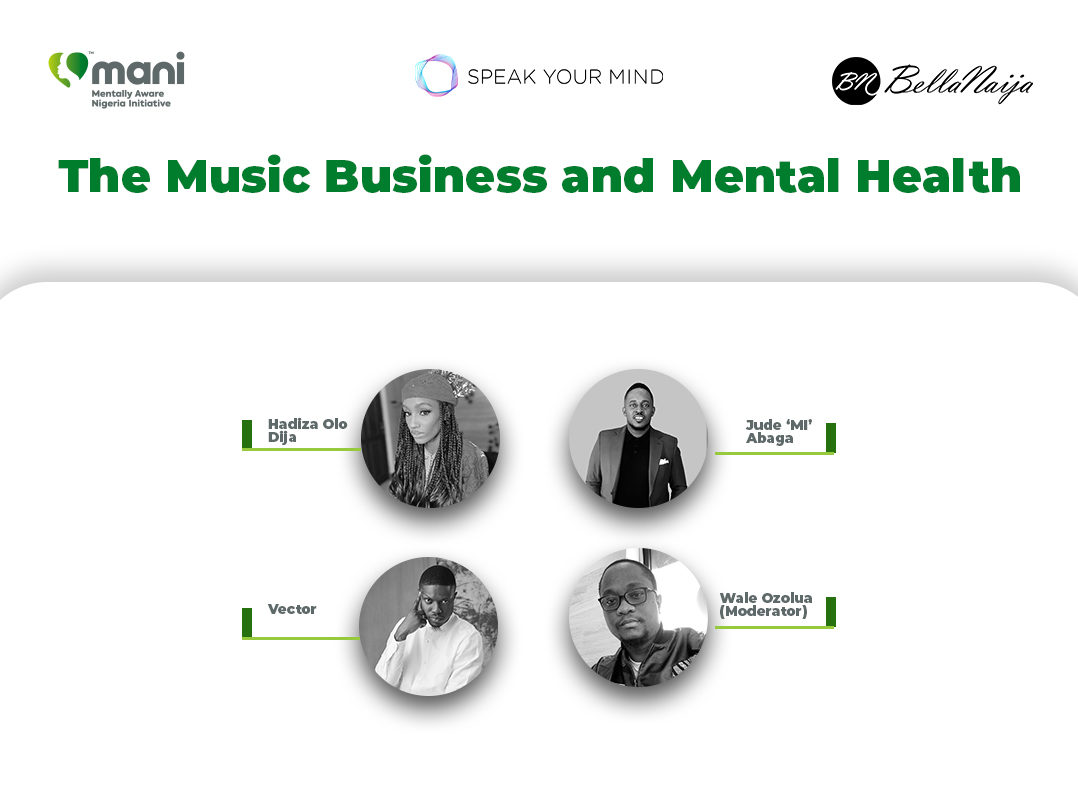 On Tuesday, 11th May 2021, the Mentally Aware Nigeria Initiative (MANI) hosted a session on the Twitter Spaces Platform event on their Twitter platform as part of its planned activities for Mental Health Awareness month.
The focus of this event was on mental health and the music industry in Nigeria and it had in attendance Jude 'M.I.' Abaga, Vector, and Dija. Music consultant, Wale Ozolua moderated this session.
The idea behind this conversation was to ask these music stars questions relating to mental health; how they cope with certain challenges as a result of pressure (financial and otherwise), personal issues, the creative process and everything in between, and more importantly how to improve mental health conversations in the music industry.
Wale: MI and Vector, let's talk, how have you been coping since the start of the COVID-19 pandemic?
M.I.: The pandemic for most of us that were in Nigeria wasn't just being locked up at home. It was EndSARS; countless stories of people dying and bad news. I thought I was good until mid last year. And then I started noticing some anxiety, for example, at work, I would be very short
Wale: How does social media amplify the pressure that comes with being creative and the creative process?
Vector: I know who I am. I feel and I don't want to stress this too much, but we have to get to a point where we understand that who we are is enough. Because the only value we can hold on to, is the one with the knowledge we have of ourselves no matter what anybody says to you out there. You have to know who you are and accept who you are in totality. Will opinions change anything when it comes to doing stuff? Yeah. So you don't have to let those things get to you, just be yourself. Once you know who you are is sufficient, others will just be another party talking. Once we get to the point where we love ourselves genuinely and appreciate ourselves genuinely what people say will barely matter.
Dija: Be okay with being you, not everybody's gonna like it, but you're gonna like yourself. If you don't love yourself, you can't love anybody else.
M.I.: Two rules, One is staying in a space where you are comfortable with yourself. I don't enjoy being a famous person, the friends of mine that are here will tell you that when we hang around, I'm like the average guy, chilling most of the time, and so I have to be comfortable knowing that I define what success is for myself. I define what happiness is for myself and to be okay with where I end on my feet in terms of that. The second rule is – you have to give space for yourself to think. For example, I enjoy driving myself, I enjoy quiet nights, I can sit outside and just listen to music. That gives me the headspace to be able to find happiness myself.
Wale: What is mental health stigma and how does the culture/society propagate it?
Dija: Mental health in Nigeria I think comes with shame, yeah there's a stigma and at some point in time, I had to be okay with whether there was stigma or not. I did a mental health concert, even though the support wasn't as much but it was called the 'Save Me Concert' in 2018. It was literally about the people that showed up. Because a lot of people are living with personality disorders, especially in Nigeria.
MI: In most of our languages, we probably have one word that is used derogatorily. Because somebody's saying, 'you're mad, you no dey well or you dey craze', and that's the stigma that surrounds it in our cultures because we don't really have the language to talk about people being mentally ill, or physically ill.
Wale: Vector, what would you say to someone who is going into the music business?
Vector: If you are going to invest in the music business, or you're going to do the music business, you have to understand what is of most value – that art is truly an art. Like, it's not just packaging you're trying to do, because that's also what is causing a lot of mental health issues for artists, you get signed on a label and they tell you the plot or the format for you is this other guy's and it starts to mess with you mentally. So even when I do business, I understand the true value of what I'm bringing to the table. And this is one of the things that a lot of us need to learn about ourselves, you have to truly believe that you are actually bringing value to the table.
Wale: Dija, how do you handle being a female in the industry, maintaining relationships, staying relevant?
Dija: Sometimes, I don't believe in first impressions at all, you know, they say first impression matters. I'm like, you don't know. So, I give people a chance to meet them again. I realised that humans are really delicate, no matter how arrogant they come off. In fact, sometimes the arrogance sort of covers up how delicate we are.
Wale: Vector, what are the ways to improve mental health awareness in the music industry?
Vector: By having conversations like what MANI is doing. I honestly take my time to share my experience, towards the goal of learning, just in case I'm wrong, I might learn something new. Like Dija mentioned outlets; these Spaces can be one of them. We just have to continue investing time and energy into things that are as real as this because, at the end of the day, we are really all human beings.